If you're trying to wrap your head around what an engagement app is and how it works, we're here to help put those minds at ease. We understand there's A LOT to process. So, what exactly does engagement mean? How would it benefit your community? At Clowder, we go way beyond creating a mobile solution - we're all about connecting people, so we want to take the time to ensure all of your remaining questions about our engagement platform are answered.
First things first, what is an engagement app?
To put it simply, an engagement app is where content, collaboration and events meet on an all-encompassing platform right from your phone. Think of this as your own private social network. You can scroll your newsfeed to stay informed on all of the latest industry insights. Have multiple events to attend? Not only can you keep tabs on each one with the My Schedule feature, but you can view a detailed breakdown of each event without having to research on the web. The forums tab houses a wide array of discussions that allows you to keep conversations going long after those events come to an end. You can also create your own profile and make networking easier than ever. Finally, never miss a beat with instant push notifications that keep you informed in real-time. Did we mention there are additional revenue opportunities through advertising and seamless integration with association management software (AMS) as well? All of our features are right at your fingertips.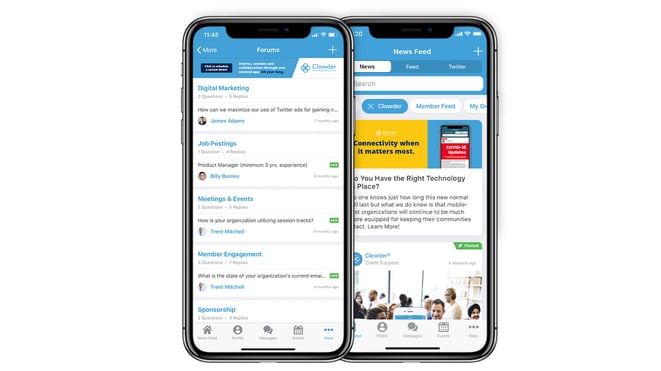 Why does it matter to your community?
Mobile usage has increased substantially over the last few years. With that, we've seen a large uptick in mobile app downloads. What does that mean? People are on their phones. In fact, we have been living in a mobile-first society for some time now and your community has never been more accessible. Inserting an engagement app into your communication strategy would not only create a single platform for all of your content, but also allow your members to remain connected all year long.
Why is it beneficial?
We put collaboration at the forefront of our mobile platform and propel organizations into modernization. An engagement app can directly benefit your community when it comes to growing and retaining your members because of the access you have to everything you need and you can even renew your membership without the hassle. We're all about connecting people to those within their industry, to important news and resources and to the organizations that matter most to them.
Where do you go from here?
If we've got you convinced, but want to see the features of an all-encompassing mobile app in action, schedule a demo with our team to get the process started!