We recently sat down (virtually) with Web Scribble's Director of Marketing, Dawn DiLorenzo, for a discussion on job boards, our new partnership, and job accessibility after the recent COVID-19-related effects on employment. Check out our conversation:
How would you describe the value Web Scribble brings membership organizations?
Our sole focus is on career center technology for associations. We don't have other product priorities, so we aren't developing and supporting different kinds of solutions. Our expertise is in helping associations support their members in helping them launch and continue to develop their careers.
Because of this focus on a really sophisticated, but easy to use platform, we continue to create features that enhance the member experience, increasing engagement, improving retention and driving non-dues revenue for our association partners. We have years of experience working with some of the best known associations around the globe, and we use that knowledge to create high converting marketing strategies with our customers during implementation.
When our media sales team creates and implements our proven sales and marketing strategies, selling on behalf of our association partners, it becomes even more powerful – since driving revenue is totally hands off for associations.
Recently, we launched two new career-focused products – Career Paths and Career Fairs. Career Paths helps members to visualize their career development and see all the pertinent information for each possible title within the industry: Things like required experience and education, training and credentialing, needed skills and competencies and detailed salary data aggregated regularly from multiple sources for the most up to date analysis of any given title. And of course, members can see open jobs and related content and events in that field right from the platform.
It's pretty powerful stuff, and since it was built to be modular, associations can turn data points on and off to encourage non-members to join to have access to that career development data.
Our other recently released product – Career Fairs, helps associations drive registrations from both vendors and members, and provides really insightful data to how each is interacting with the platform, and ultimately, the association. All of these things create a full-cycle, sticky solution that keeps members and employers coming back year after year.
How does Web Scribble serve as a revenue generator?
Web Scribble helps drive revenue in a number of ways. First – related to non-dues revenue by working to drive job postings and creative marketing strategies to help companies attract the most qualified candidates. A happy employer is an employer who will keep buying ads from you! Again, we have deep expertise in creating proven marketing strategies used at hundreds of associations over the years to drive revenue.
One thing I should mention is how easy the platform is to use, despite its backend sophistication. Members and association employees love it because it just works. The career center, and our other products, look and function as an extension of the existing website – we can even do an SSO integration to make it that much easier – so members don't even realize they have left the site. That makes it super simple for them to navigate the site, find what they are looking for and get the career resources and job postings they want.
For employers, they know that when they post their open positions, they will be in front of the most qualified candidates in the industry, and their posting doesn't just get published then lost in the abyss of mass job boards. This motivates them to keep posting with our customers. They are given detailed analysis of the engagement with their postings and skilled sales and marketing experts help them to create ads that convert.
When our marketing team gets involved, we help develop strategies like email and social media marketing plans, integrated job widgets and digital recruitment guides, among other things. And of course, all of these tactics also have insightful analytics so we can measure the success of a campaign, and either update and pivot to drive different results the next time, or continue to expand on a path that's working.
And finally, as I mentioned, we have the two new platforms – Career Paths and Career Fairs to drive revenue in brand new ways that are unique to this industry. Outside of what you would expect, we look at driving revenue for events (both virtual and live), training and certification courses.
All of these things drive non-dues revenue, and also provide an opportunity to drive new memberships as job seekers will want to become a member to have access to the exclusive content offered by the association.
What kind of support does your team offer Web Scribble users?
We have a few different ways we support our customers. During implementation, our Customer Success Managers work closely with our customers to ensure that every career center is carefully designed to tightly integrate with the website. All data from a previous job board vendor is scrubbed and uploaded into the Web Scribble platform – and that is all handled by our team.
There is very little effort required of the association employees. Everything is branded so that the experience between the association website and the career center (or Career Paths or Career Fairs) is a totally seamless experience. Again, other than providing the basic branding guidelines, everything is done by our team.
Each account is assigned to a CSM and they have regular meetings to review account metrics, and make recommendations on where and how to improve performance and engagement.
One of the biggest benefits we offer to our association customers is the option to have our experienced media sales team handle all the sales and marketing for the career center. So, that means, we create the sales and marketing plans, we make hundreds of calls and emails every day to recruit for the hottest jobs on the market – and drive hundreds of thousands of dollars every year directly to our association customers for recruitment advertising.
On top of job postings, we have really creative offerings like our Job Watch email newsletter which compiles that best jobs an association has to offer and provides a way to drive even more revenue with highlighted jobs and banner ads. Other tactics like digital recruitment guides, and easy access to the latest events and training help not only improve member engagement and satisfaction, but also help drive more revenue directly to our customers.
What sparked the partnership Web Scribble has developed with Clowder?
Well we know a good thing when we see it! Over the years, we have attended similar events, we share mutual professional relationships and it just made sense from a technical perspective. We are both iMIS partners and have mutual customers, we can use that knowledge and relationship to create efficiencies and benefits for our customers that might be more challenging individually. It's really a win-win for our two companies, associations, members and employers.
We can also increase cross-platform traffic as we now serve job ads directly in the Clowder app. Users can easily transition through the app to the career center. This creates that really seamless, easy interaction with both platforms and creates a really positive user experience. It also helps employer advertisers get better visibility, and helps them fill their jobs faster. All that helps the association be seen as that really valuable resource so members will keep coming back over their career development journey, and employers will keep coming back to buy job posting space. Did I mention the win-win relationship?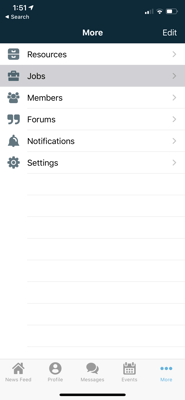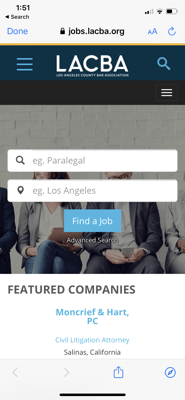 (Pictured: The My LACBA app powered by Clowder)
Have you seen an increased need for accessible job boards due to COVID-19?
I think we've all been pretty astounded by the state of the job economy over the last few months. In some industries, we are seeing an increase in demand, and others we've seen the floor drop. Obviously with over 40 million Americans looking for work, job seeker activity is at an all time high.
Associations with high functioning, easy to access and use career centers, sophisticated career development tools like Career Paths and Career Fairs, and really solid sales and marketing strategies are uniquely positioned to provide really impactful resources that job seekers can't find on mass job boards – who, by the way, are cutting their own staff by 30-40% over the past three months.
In June, Web Scribble CEO Alexey Gutin and I presented a webinar called - The Impact of COVID-19 on the Recruitment Industry: Current Analysis and Future Opportunities where we covered the state of the post-COVID economy to date, dug deep into what the experts are saying about the anticipated recovery and gave solid strategies for associations to help support members and employers through this time. The webinar replay can be viewed on our website.
We want to thank Dawn for all of her insight! If you would like to learn more about Clowder's ability to host Web Scribble's job boards within our apps, click here for a brief demo or email Billy@clowder.com.