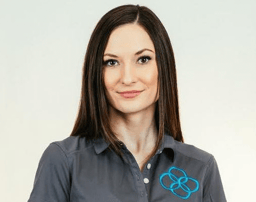 When it comes to defining our mission and values here at Clowder, it starts with our people and our culture. To put it simply, our employees are our biggest asset. We believe the key to a successful business is engaged employees that can help magnify our brand. This is Kelsey Druggan in a nutshell. Kelsey is a Senior Account Manager of our Client Success team and she serves as a guide for building long-lasting relationships with our clients and getting the most out of our product value. We sat down with her for a Q&A that showcased her journey from where she started to where she is now.
Here's what she had to say:
What attracted you to Clowder?
"What first attracted me to Clowder were phrases that sparked my intrinsic motivation. Phrases like "upward mobility" and "stake in the company's success." I quickly became highly interested in a company where I would be able to see the impact or "personal footprint" on a day-to-day basis. When I work at Clowder and with our clients each day, I get to curate the experience - from the examples I'm showing them to the words I use to train them. When I first joined the Clowder team, I immediately felt I could make an impact on our clients and company alike from day one. Additionally, I am obsessed with social media and being able to build our clients' communities where they can privately engage was exciting to me. Lastly, I am an innately curious individual and seeing that there was travel involved in the role I was applying for was an added bonus."
How would you describe your growth at Clowder?
"In a word, expedited! We joke that a week at Clowder is like a month of professional growth at any other company. Upon joining the Clowder team, I did not know anything beyond my degree at James Madison University. My knowledge of the tech space and apps in general was minimal. All I knew was how to go to the app store, download a new app, and use it. Embarrassingly, I asked questions that seem obvious to the team, such as "What is an AMS?"
I started at Clowder as an Account Manager on our Client Success team (or CS team for short) with not a single client to my name. My duties ranged from ensuring the timely and successful delivery of our mobile solution according to customer needs and objectives to acting as a liaison between our development team and our clients. Fast-forward two years and I've been promoted to Senior Account Manager on our CS team (the best team!!!) and have countless clients. My duties expanded from the above and now include hosting client-exclusive webinars, providing on-site event support and my personal favorite - acting as content manager for our NEW employee engagement app, Clowder Connection."
What do you like most about Clowder and what is the most rewarding aspect?
"What I like most about the Clowder team is the family feel you get as soon as you step foot in the office. You can feel comfortable to try new things here and if it works out, the whole team will be excited for you. If it doesn't work out, on to the next idea - like I like to say, failure is the only way to success. Just like a family looks out and supports each other, fellow team members do the same in our office. One of my favorite times during an in-office day is lunch! If you've ever thought about where to eat or who to sit with, it's never a concern at Clowder due to our giant lunch table in the middle of the office so we can all eat together! It's a great commonplace for us to chat about anything non-work related going on in our lives or discuss low pressure work related items.
I find that the most rewarding aspect of Clowder is helping a client achieve the goals they've set forth for their app, whether it's trying to get their members engaged, targeting a younger audience, having a place to send their members up-to-the-minute alerts via push notifications or recruiting non-members to become members. Each day is different and exciting! Overcoming new obstacles and finding new solutions are what make me excited to come to work every day."
How would you describe Clowder's culture?
"I would say it's very nurturing. Clowder is invested in both your personal and professional growth. Once a month, I meet with my direct supervisor to review how I'd like to grow professionally that month. Our Clowder family also helps its employees grow through friendly competition. There are oftentimes competitions within teams based on a selected performance metric for an opportunity to win a prize. I also say nurturing because if you do have a failure, the Clowder team will be there for you when you fall. There won't be any harsh or mean words, but more so encouragement to build success in the future. A great example of this was when I was sending out emails to clients and often times there would be an additional bullet - obviously, this is not a good look in an email nor is it desired email etiquette - my boss started calling it the "bullet bandit" an internal joke whenever she saw them pop up in my emails to call attention to it in a loving way. You see, for me this culture has truly helped me grow and thrive as an individual and as a part of our company."
Where do you see yourself in five years? Where do you see Clowder in five years?
"It's hard to envision myself in five years since I love my current job so much, but in five years, I could be doing the same thing on a larger scale, and I'd be happy. By larger scale, I mean Clowder has hundreds of clients and in five years, I'd hope we'd have thousands. I could also see myself managing others who manage our clients to help them help our clients and grow as individuals. I think that to best teach others, you should first master the skill on your own. I've been a part of the Client Success industry for two years and by year 5, I'm hoping I have the industry knowledge and knowledge of my own role under my belt. It would be inspiring to encourage those Client Success managers to take good care of our clients and expand my personal impact even further.
Clowder in five years, oh wow! I believe in five years, Clowder will be connecting and engaging communities and industries around the globe. Oh wait, we do that today! My hope is that in five years, if a company is looking for an app, they'd know the name and the brand of Clowder."
What do you do for fun when not working?
"When I'm not working, I'm definitely heading straight to a restaurant with friends as I'm a big foodie. I also enjoy traveling on the weekends to stop by various cities and its most sought-after spots - occasionally I'll spend my work from home day in a far off distant state. When I'm not working, traveling, or eating, I'd probably be cleaning, at the gym on the elliptical, decorating my apartment or online shopping for new clothes. My apartment is right by Washington, DC, so in nicer weather I try to take advantage of living next to our nation's capital and have a picnic by the monuments or go paddle boarding in Georgetown on the Potomac River."
--
We're always seeking talented individuals to join our team! If interested, please reach out to Alexa@clowder.com.